https://www.ynet.co.il/environment-science/article/rkll4vdbh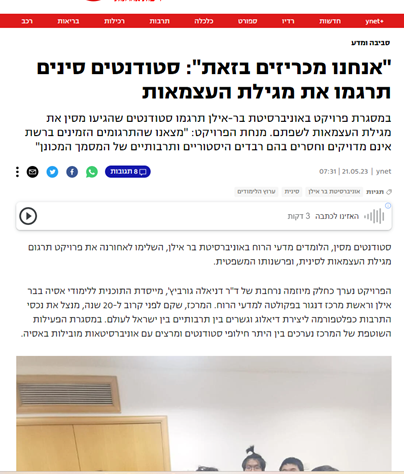 In a special study program held at the Dangoor Centre, SISU University students presented their final project translating the Israel Declaration of Independence into Chinese. They also analyzed its ethical, judicial, and moral values.
In a study course "Israeli Law and Society: Imprints of History and Religions and Cross-Cultural Perspectives" headed by Dr. Hadas Peled in Hebrew-English and Chinese, the students celebrating Israel its 75th birthday, presented in class their final project.
Dr. Hadas Peled: "During the two-year project we studied the basic legal foundation of the State of Israel. The students in this class translated the Israeli Declaration of Independence into Chinese from Hebrew. Existing online encyclopedia translations do not provide a thorough and precise translation of the declaration."
The project was part of the many years initiative held by Dr. Danielle Gurevitch, Head of the Dangoor Centre to bring students majoring in Israeli studies in leading Chinese Universities, to a joint program with the Humanities faculty at Bar Ilan University. Dr. Gurevitch states: "Some of the most fundamental ideas were omitted since they required a comprehensive understanding of Israeli law and culture."
As a special guest, Maya Gurevitch was invited, an under graduate Asian studies student at the Humanities, who talked (in English and Chinese) about the complementary service, to the IDF for man and woman, at the age of 18 and shared some reflections of her military service.
After class we invited all the students to eat falafel. A favorite national Israeli dish.
Congratulations to the committed students who have reached this significant milestone in bridging the gap between the two cultures.