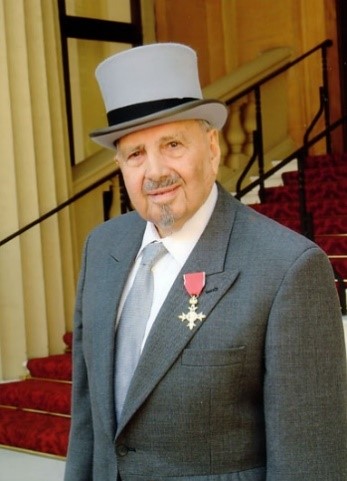 Sir Naim Dangoor, OBE, Z"L , Patron and founder
Sir Naim Eliahou Dangoor, OBE, (April 1914 – 19 November 2015) doctor honoris causa of Bar Ilan University, born in April of 1914 in Iraq, was the grandson of then Chief Rabbi Ezra Dangoor and son of the world's largest printer of Arabic books. As a young man, he traveled to the University of London to study engineering. So meaningful to him was this opportunity, he vowed that if he should succeed in business, he would donate money to education. In 1946 he married Renée Dangoor, the first Miss Baghdad, and took charge of the Coca Cola franchise in Iraq.
In 1963, while the Dangoor family was abroad visiting England, the Ba'ath party took control of Iraq and enacted harsh decrees against Jews. The Dangoor family was granted asylum by the British government. In London, Naim Dangoor established a property development business. Soon after settling in England, he founded a community centre for new immigrants in Kensington and a journal, The Scribe, to network Iraqi Jews since their scattering over the previous forty years.
In addition to establishing the Dr. Naim Dangoor Program for Universal Monotheism at Bar-Ilan University in 2008, Dr. Dangoor's many projects include trusts and endowments to provide food, education, and other benefits for refugees and disadvantaged communities across the globe; funding scholarships for students in need in the UK and in Israel at Bar-Ilan University and supporting cancer and other medical related research. He holds a very dear place in heart for helping fellow Jews and especially Iraqi refugees.
Sir Naim Dangoor z"l holds multiple honorary doctorates, and in the 2015 Queen's Birthday Honours, he was appointed a Knight Bachelor, thus making him the second oldest person to be a knighted Sir.
Dr. David Dangoor
David Alan Ezra Dangoor is a British businessman and philanthropist. Patron of the "Sir Naim Dangoor Centre for Universal Monotheism" and the Founder of the Dangoor Education foundation.
David Dangoor, son of Sir Naim Dangoor, was born in New York, spent his early life in Baghdad as part of Iraq's Jewish community, leaving with his parents and his brothers in the 1960s for the United Kingdom, where he was educated at Carmel College and Imperial College London. He then worked as a systems analyst at IBM.
He is married to Judy with 4 children and 4 grandchildren.
David has been a promoter of interfaith harmony for many years and is Chair of the Lord Lieutenant of Greater London's Faith Council as well as the patron and inspiration leadership to the Sir Naim Dangoor Centre for Universal Monotheism at the Faculty of Humanities at Bar-Ilan University.
In 2017 Israel's Bar-Ilan University awarded Dangoor an honorary doctorate, citing his "tireless efforts to further education, culture and art throughout the UK and Israel".
David has been involved in Jewish community activities for most of his life and was President of the Elders of the S&P Sephardi Community 2011-2016.
He has been Vice-President of the World Organisation of Jews from Iraq (WOJI) for the past ten years, and is a tireless activist for access to the Iraqi Jewish Archives and tries to use his background and heritage to ensure greater relations between Jews and Arabs . One of the leading characters, along with his Childhood friend, Edwin Shuker on the award winning 2017 documentary film: https://rememberbaghdad.com/the-film .
He is President, of Jewish Renaissance magazine, and a Trustee of the Simon Wiesenthal Centre UK. A former President of the Board of the Spanish and Portuguese Jews' Congregation, President of Jewish Renaissance magazine and a Vice-President of the Jewish Leadership Council. He is a Deputy Lieutenant for Greater London and chairs the Lord Lieutenant of Greater London's Council on Faith
He was also made a Fellow of the British Exploring Society and also of the Royal Albert Hall.
David has been very active as the Sponsor Governor of Westminster Academy since it was founded in 2006. Passionate about widening access to science and medicine and active in developing a number of projects and initiatives
President of the Space Science & Engineering Foundation and is also a member of the International Board of the Weizmann Institute in Rehovot, Israel. He is Exilarch of The Exilarch's Foundation, a charity that has generously initiated, guided and supported many causes, mainly relating to education and health, including Westminster Academy, Imperial College, the UK Space Design Competition, The Open University, Age UK, The UK Israel Tech Hub, the Weizmann Institute of Science, the Centre for Personalized Medicine at Bar Ilan University, Mishkenot Sha'ananim, Jewish Book Week and the Centre for Universal Monotheism at Bar Ilan University. A subsidiary of The Exilarch's Foundation is Dangoor Education, which has supported dozens of charities in the UK and Israel. He is a strong believer in strengthening UK-Israel ties and helps fund many initiatives that further these relations.