The first book that opens the new Critical Companion series, published by Graf-Academic and supported by the Dangoor Centre, edited by Dr. Danielle Gurevitch is a book translated written by Gurevitch herself.
The book entitles: The Lais of Marie de France: On chivalric knights, fair damsels and forbidden love-text and context presents, for the first time in Hebrew, prose translation of the Breton tales written by Marie de France, the first French poets in the 12th century, setting the foundations to modern love stories. The book includes 12 short adventure tales and a prologue, to which were added an historical preview, commentary and close reading chapter. The book aluminates Marie's mysterious persona as well as puts in context the stories she wrote. Love tales that to modern eyes some may sound immoral and others fantastic fairytales.
And just as the identities of some of these otherworld characters remain obscure, so too does the identity of Marie de France herself is unclear. Her real name does not appear in official documents although she is known to have grown up and educated as a noblewoman in the court of King Henry II and his wife Queen Eleanor of Aquitania, in London. Part of Elienor's artistic courtyard occupied with the most renown intellectuals, artists, philosophers and poets in this golden age of the Middle Ages.
Attached to the book is a novelty in the form of composed pieces of poetry of her works (using a bar code embedded in the relevant pages) and thus one can bring to life not only the stories themselves but also the way in which, presumably, the people of the time listened to them. The musical pieces were composed and performed by the American musician Michelle L. O'Connor, who specializes in medieval poetry.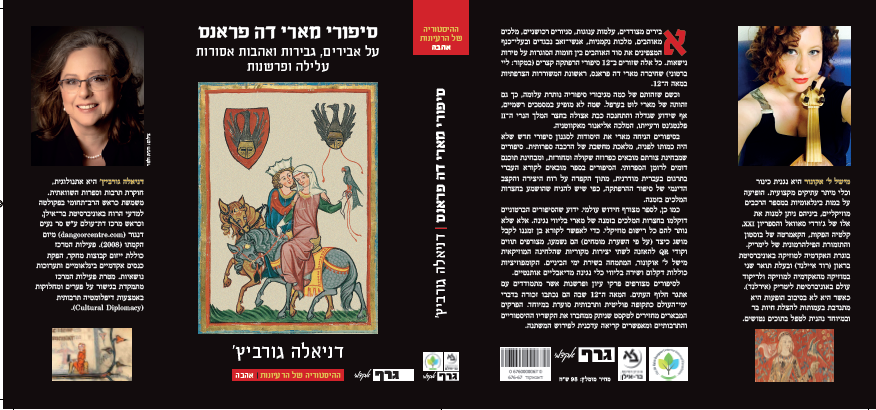 The book opens the series of "history of ideas" that will initially produce a series of topical books in accordance with the spirit of the Centre. The first series to be produced, whose title is "The History of Ideas", seek out works of literature that echo a national historical narrative. The books in the series are divided into thematic categories and aim to present a range of disciplines shared by all peoples and cultures in search of signs, feelings, customs and beliefs that led to the development of national ideals which underpin the idea of a universal humanity; from preserving the past to shaping the future (futurology). The series' foundations are based on a multi-disciplinary combination of poetic-historical observation enmeshed with comparative cultural reading, through rigorous academic and research in specific and distinct topics consistent with the centre's rationale.
Editor of the academic series: Dr. Danielle Gurevitch
Members of the academic council: Prof. Yoav Elstein (BIU), Prof. Elana Gomel (Tel Aviv University & Stanford), Prof. Nir Kedar (BIU & Sapir College)
The following books will commence the series – to be published in 2020:
Love- (France) On chivalric knights, fair damsels and forbidden loves: the stories of Marie de France; narrative and interpretation (Danielle Gurevitch)
Tolerance – (India) On the weakness of human judgment: What the West can learn from the East? (Daniel Sperber)
:קווים לדמותה של האהבה: דברים אחדים על המלכה אליאנור מאקווטניה
https://biu.page.link/WhacvbYnxDCQCSmq5